You also get two one-of-a-kind BONUSES with the course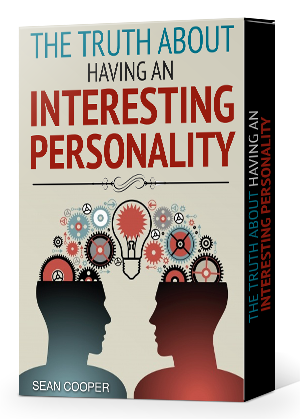 The Truth About Having An Interesting Personality
This bonus will explain why some people are magnets for friends and attention... and other people are stuck being ignored and invisible.
The insights and ideas in this report are ones that I've spent years learning from different sources on marketing, influence and persuasion.
What I've discovered is that there are certain "triggers" that make people immediately see something (or someone) as being popular. This is how some politicians become famous quickly, and why some products are known by almost everyone.
When you know how to use these "triggers" to your advantage, people will start seeing you as being more interesting and desirable to be around. You'll soon find them paying more attention when you speak, contacting you more often, and even inviting you out to do things.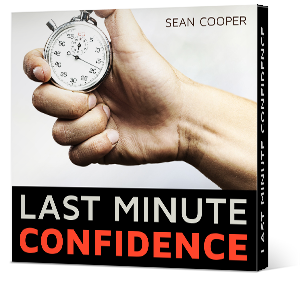 LAST MINUTE CONFIDENCE
One psychological "trick" (that Hollywood performers use) to overcome anxiety in almost any situation, just when you need confidence most
Most confidence advice sucks. It's obvious and just common sense.
Let me be clear, this bonus video is NOT about:
"Faking it until you make it"...
"Walking like you own the place"...
Dressing well or taking care of your appearance...
Being prepared...
Positive thinking...
Smiling, standing up straight or any other body language tips...
Facing fear...
Hypnosis (or NLP)...
Or pretty much anything else you've probably head of...
So, how much does it cost Sean?
Let me be a slick salesman for a minute and turn this question around on you: How much is it worth to you?
Most People Would Pay Almost Anything...
Many people spend thousands of dollars on medication, therapy and coaching for their poor conversation and social skills... often with slow, small improvement over years.
Other people spend hundreds of dollars on "self help" books and programs to become more confident... and all they get is useless advice like "think positive" or "fake it until you make it."
Other people spend years of their life trying to look their best by buying new clothes, going to the gym or wearing makeup...
Or trying to "become successful" with a university degree, high paying job, nice house and car... because they secretly believe this will make them feel more confident about themselves.
This program contains over 7+ hours of training videos. So if you were to pay me $100 per hour (a low rate for coaching) to teach you this information personally, then it would cost over $700...
But don't worry, this won't cost a fraction of $700.
Since this is a digital course which means it doesn't cost me anything to deliver it to you. (Apart from the hundreds of hours of research and work to put it together.)
This means I can offer you the course for one payment of $97
Considering that's less than what you would usually pay for even ONE HOUR of coaching or therapy... I'm sure you can see the incredible value here.
Plus, you risk nothing with my
Money Back Guarantee
You have 60 days to decide if the program is right for you. If you are not satisfied for any reason whatsoever, then I will refund 100% of your money. No questions asked. No worries, we can still be friends. :)
Why am I doing this? Because I want you to have NO RISK in this. I want you to notice yourself improving, before you decide to commit to the program. And honestly, if you're not totally satisfied by this program, then I don't want to keep your money.
Frequently Asked Questions
How do I access the program?
You'll be able to watch the first week of the program right after you order. I'll email you every week when a new module is available. I've found this weekly schedule is best to make sure nobody is overwhelmed with information. The bonuses will be made available near the end of the program.
Is it safe to use my credit card?
Yes, your order is completely safe and secure. I use a company called Clickbank to process credit card payments, which is run by hundreds of employees and is based in Boise, Idaho.
What shows up on my credit card statement?
The charge on your credit card statement will show up as "CLKBANK*COM" and there will be no mention of conversation hacking or social anxiety.
Will I be able to download the videos?
Yes, you'll be able to watch the video modules online or you can download them to your computer or tablet/phone.
I want the course, but maybe I'm not ready to get out there and socialize?
Even if you don't start going out and meeting dozens of new people tomorrow, you should still sign up. That way you'll be able to make progress even if you're mostly stuck at home now... and you'll know exactly what to do on that day when you are "ready."
Where can I contact you?
If you have any questions or comments, then you can contact me here or simply reply to any of the email newsletters I send you.
Now the most important question: Will this program actually help you?
Here's the way I see it: most people who buy any type of "self improvement" product fail to improve themselves... because they never actually USE the information!
Think about how many threadmills people have bought in January, wanting to exercise more, but soon forgetting about their New Year's Goals.
So if you're looking for some "magic pill" that's going to cure you instantly with no effort, then this course is not for you. This is for people who want to learn techniques that have been PROVEN to build REAL long-term confidence and social skills. Not just a temporary emotional high like many "self help" programs.
Don't take my word for it, take a look at some of the feedback I've received about my other products...
"I got the job in my last job interview, cause I was able to be more calm and confident"
I used to be very shy around other people, even people I had known for a long time. It was hurting my career, as a musician.
Your system was the same price as one-way train ticket from where I live to the capital in my country and back again. I figured I could benefit more from your product than one day trip to the capital, Oslo.
I have only used your information for a short time, but I already notice I am more confident now. One specific situation was that I got the job in my last job interview, cause I was able to be more calm and confident.
You could get a better layout on the members website. And post something there more often.
"I can start conversations with people I never would have before"

My biggest problems before were not knowing what to say to people and being too self conscious.
When I first saw your system, I was worried that it wouldn't work and I didn't want to waste money.
Since reading your information, I've started improving my conversation skills and being more spontaneous. I can start conversations with people I never would have before (people more popular than me, etc). I have more confidence and am revealing myself more to people.
"Shy all my life … getting better now"

My problem was being shy all my life. I was afraid to talk to people and felt uncomfortable all the time.
I am now attempting to make conversations with as many people possible. Sometimes i feel like i have the motivation and sometimes i dont. But i am getting better now over time.
"Seemed like a scam"
The website looks really dodgy. There is so many sites in the similar style. I always avoid them. When I went to buy it from my computer the pages you had to keep clicking through, and the style made it seem like a scam.
I only continued with the purchase because a friend had bought it already and said it was good.
The system is great and the cost is good too! I have been practicing your techniques and have had a number of pleasant conversations already because of this.
"Now I enjoy talking to people"

Before i was really awkward about talking to people and especially with making eye contact. i felt like i had to talk to people and make eye contact just so that i wouldn't be seen as awkward or shy, but i really hated doing it.
After reading your information i began to see a difference in how i acted. now i want to and enjoy talking to people.
i love the website and the fact that i get email alerts when you post a new article
"When I met my friends again after christmas vacation I was the most cheerful and talkative one!"
Many times I stayed at home for days because I had nothing else to do. Even then, when I am at home I felt watched by the neighbors, i felt that they maybe are judging me that I am not out of my home frequently. To sum up, I was afraid of rejection, of humiliation and I lacked social skills. The result: I was mostly alone, I was miserable and bored…
I always was quite a loner and i liked it, I was enjoying being alone. The situation changed when I when to college, in a different city of my own (for my sake very close to my hometown).
Then I was left alone. Completely, unbearably alone. No one talks me, even to ask for a pen…Then I realized that there was a problem. I needed to try hard to change!
The tips you shared for making a long conversation where very useful and they work. I've made a step forward with the few people i know, we are closer now.
Now that the christmas vacation was over, when I met my friends again I was the most cheerful and talkative one! I also found the fact with amygdala of the brain fascinating. I am looking forward for more information!
"I wish this course existed when I was in my 20's"
Consider this to be a cautionary story from a 64 year old.
Social Anxiety Disorder showed itself when I was in Kindergarten during the 1950's. I was sent to the school psychologist as well as a speech therapist during elementary school with no results. Social Anxiety Disorder was not a recognized condition at the time.
High school was a horror show but I managed to graduate, barely. My parents always wondered why I spent so much time "hibernating" in my room. As a teenager and adult I was not able to sit in a fast food restaurant and always ate in my car. I had panic attacks in shopping malls and did not go very often. Luckily I have some artistic skills and found work as a stained glass artist and photographer. I was able to go from job to job based on recommendations and have never formally had a job interview. I did well at work because work meetings were always structured and a specific topic was discussed.
Up until 50 years old I knew something was wrong with me but did not know what it was. I was different from many other people and wondered why I couldn't socialize. At age 50 I took part in a Social Anxiety study that investigated Paxil to relieve the symptoms. Having a name to my pain helped. I joined Toastmasters International and got comfortable speaking in front of audiences. Again, as with work, this was a structured environment. I was giving a speech, not having a social conversation. I met hundreds of Toastmasters but never socialized with any of them outside of Toastmasters. Last year I titrated off the Paxil and started taking improve comedy classes. The people in the class were great and very supportive.
It was about this time that I purchased Sean's Shyness and Social Anxiety Program. It helped a lot. Sean described what I went through very accurately. His section on how to have a conversation was the best part. The improv class started having practice sessions at a members home. At age 63, for the first time in my life, I went to someone's house to meet socially with a group of people. Sean's advice on how to converse worked great!
If you are younger please do not wind up like me. Buy Sean's course and apply what he teaches. I wish his course existed when I was in my 20's. Your social contacts will approve and probably your income. Especially with social networking it is not what you know, it is who you know. I believe, as Sean does, that Social Anxiety can be overcome.
The younger you start to overcome it the better. In my case I had 50 years of conditioning to overcome. Thank you Sean, it is a great comfort that someone else experienced the same symptoms as me, overcame them and created a product to help other people.
"Straight to the point and focused"

As a clinical psychologist specializing in social anxiety and self-help systems, I was amazed at how well Sean has distilled many of the principles that can actually make a difference for those of us who battle social anxiety. Sean's information is straight to the point and focused on some of the most critical skills for managing shyness and anxiety.
"Simple to read, to understand and most importantly, to apply"

As a former shy, "invisible" guy myself, I find something fascinating in what Sean teaches in this program because you can tell he's been through it, he knows personally what it's like to have shyness and social anxiety, and he grasped how to beat it.
The Shyness and Social Anxiety System got me realizing things I wasn't aware of about overcoming shyness. This is probably the finest proof I can give of the quality of this program, considering that I coach shy people almost on a daily basis and I believe I know a thing or two about overcoming shyness.
If you struggle with shyness or social anxiety, coaching is out of your financial range and you're looking for a quality information product to help you make real progress, this is it.
"The techniques shared in The Shyness and Social Anxiety System work"

It was 5 years ago. I was a freshman at college, thrown into a new town where I knew hardly no one. I had always had some trouble with socializing before, but it was this first year at college where the problems really piled up. After long months of not being able to make friends, I eventually became hopeless and depressed (including, even, thoughts of suicide).
It was definitely not a fun situation to be in, but now looking back I am actually grateful for this dark time in my life.
You see, like pain motivating us to take our hand off of a hot stove, my depression and anxiety motivated me to change important things about my life.
I began to read about psychology and personal development, and I began finding ways that I could change my thoughts and behaviors and truly evolve myself as a person.
But back then "The Shyness and Social Anxiety System" (SSAS) didn't exist. Instead, I had to read a lot of different literature in psychology, personal development, and even some philosophy, until I really started finding my way and getting the "full picture" of my social anxiety.
The truth is - you don't need SSAS to overcome your shyness and social anxiety. But I think it would greatly speed up your progress.
As someone who has read and studied a lot of different systems in psychology and personal development over the past half decade, I can attest that the techniques shared in SSAS work.
Sean Cooper clearly understand the factors that influence our thoughts and behaviors, and how we can change these aspects of ourselves to build a more successful social life.
"I became more confident – that's for sure"

I've always had lots of problems communicating with strangers. My confidence was at a very low level. I always thought what some random people will think about me. I had problems with girls(which I still have, but not as much as before).
When I saw your system, I bought it almost right away. Well my card was in my wallet, and the wallet was lying somewhere in my house, so I took me like 5 minutes to discover it and 3 more minutes to fill the payment form.

Now I've made a lot of progress. I stopped caring what others will think, not in every situation of course (like considering running naked down the street).
I became more confident – that's for sure. I started praising and acknowledging my positive sides and now there's no trace of doubt that I really have them. Sometimes I wonder if my present view of myself is somehow close to being called arrogant, but then again I realize that I'm too smart, cool and fascinating to be arrogant

I've got me a few dates, well they weren't really successful, but still the fact that I got them was encouraging.
Well, frankly saying it wasn't only you who contributed to the last one, believe me or not – classic literature also helped me along, but your advices along with your understanding attitude were useful.
"I would recommend your system to anyone"

I am a college student studying engineering. It requires a lot of teamwork and working with other people. I noticed that people began to stay away from me. I didn't really talk to anyone and I knew I was abnormally quiet, but I didn't feel like I was doing anything wrong necessarily.
I watched my classmates interact with each other. I knew they were constantly in contact with each other studying together, helping each other, and hanging out with each other. I was so hesitant to ask for help myself because I hate looking dumb. I didn't want anyone to know how much I didn't understand.
The big thing for me was the friendships I saw among the engineers that formed without me. That hurt. People didn't send me any messages about when groups were getting together to study.
There was a night that I looked around at the other students working. Everyone was paired up and in groups, collaborating together to figure the homework out. I was trying not to isolate myself.
I waited for someone to come up to me. No one did. My heart felt so heavy. I went to my car and cried. I've felt loneliness before, but it's never hurt like it did that time.
On several times I would be in the cafeteria and see other engineering students sitting in there. I hid from them. I was afraid that if I sat with them, I wouldn't have anything to say. I would just sit there silently which I was starting to realize is apparently odd to most people. They probably have the wrong impression of me, and now I'm buried under work and painful loneliness. And I did it all to myself.
Your system was the first one that I could completely relate to. I bought it as soon as I heard about it. When you spoke of your past experience with social anxiety, it might as well have been me speaking. It rang true and I couldn't ignore that. I might have hesitated for a few seconds because I didn't want to ask my mom for the money and admit that I was struggling. And I didn't want my dad to know at all. I wasn't willing to discuss it with him. I'm still not. But I was able to talk to my mom she felt that this system was something that I needed.
I think the system is great. It's a fast read, the ideas and techniques are actually helpful, and I would recommend it to anyone who is struggling with social anxiety.
The technique that I use the most from your system now is threading. I don't understand why I had so much trouble talking to the people who are the same major, in all of my classes, who I see all of the time. I just didn't realize that I really did have plenty to say.
For example, when I was working on a lab with an assigned partner. We slowly, but surely became friends after that. I wanted to show my more lighthearted side. I love to laugh so I didn't hide it. I began to laugh out loud. Although I still struggle with asking for help and not wanting to look dumb, I got better about saying that I needed help. I feel like that helped people to notice my existence and I felt "okay" with everyone.
I felt like they gave me the opportunity to start over. People talked to me a bit more. I tried to let down the wall a bit and admit when I was having trouble, academically and in a way socially. I have been able to sit with engineers without an invitation and actually talk more than once. I'm not a chatter box towards them, but it's progress. I know it will take some time for people to alter their mindset about me and suddenly let me in when I was the one who avoided them for so many years.
I'm in the last semester of my senior year. I don't feel like I have the time left to develop the friendships I want with my entire class. That is something that I regret. But I do get asked to hang out every once in awhile with some of the engineers. I do get asked to work on assignments with the one guy I was assigned to be partnered with on a lab that I talked about earlier.
Considering where I started, I think I'm doing well. Now my biggest thing is wishing that it had never happened in the first place because I am aware of how much I missed out on. But I am glad and thankful to be where I am and to be getting better slowly.
A Summary Of The Program:
This program is, at the very least, DIFFERENT than anything else out there.
It's designed specifically for people who are very shy, quiet, nervous and awkward in conversations... and designed to make you more confident, outgoing and talkative.
The program is split up into 4 weekly video training modules. You also get two valuable bonuses, including the one where I show you a Hollywood acting coach's technique for "Last Minute Confidence."
You never risk anything by purchasing because I offer a 60 day money back guarantee. If you're not satisfied for any reason, simply email me and I'll refund your money no questions asked.
If you're still undecided about investing in this program, then consider this...
The definition of "insanity" is doing the same thing over and over again and expecting a different result. If you don't learn a different way of talking to people, then you'll stay the exact same. Your social, romantic and professional life will stay exactly the same. It's as simple as that.
So make your decision now, and I'll see you in a few minutes...
ClickBank is the retailer of products on this site. CLICKBANK® is a registered trademark of Click Sales, Inc., a Delaware corporation located at 917 S. Lusk Street, Suite 200, Boise Idaho, 83706, USA and used by permission. ClickBank's role as retailer does not constitute an endorsement, approval or review of these products or any claim, statement or opinion used in promotion of these products.